Kids Shred Program - SUMMER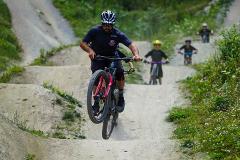 Duration: 1 Days (approx.)
Location: Whistler
Product code: SCWPKI
ZEP MTB KIDS is the program for any kid who wants to get the most out of their summer biking!

The ultimate mountain bike coaching program for kids! The ZEP MTB Kids Summer Shred program includes coaching two days per week, from 9am - 3pm. Choose between Monday & Wednesday or Tuesday & Thursday.
With a maximum of 5 groups in total, ZEP provides an efficient, easy drop-off and pick up location in the village, to save time and hassle for the parents.
This programs is catered to 5* to 9 year-olds who are used to being outdoors for the day and love riding their bike with their buddies.

Kids must turn 5 by March 31st to enrol in the ZEP 2021 Kids Shred Programs
Healthy, fresh lunches and afternoon treats are included in the program and provided by Connection Cafe at the Passive Haus!
Coaching will start in the Lost Lake trails, including adventures on the Valley Trail, visits to the pump tracks and riverside skills park. Depending on your child's age and skill, the groups have the options of exploring many trails through out the Whistler Valley. Coaching sessions in the Bike Park can be included, based on group ability, desire and readiness (lift tickets not included).
Recommended for kids who love being outside all day, riding and exploring in Lost Lake green and blue trails. Well-fitted mountain helmets, gloves, knee and elbow pads are mandatory and kids must carry their own water, snacks and spare clothes.
Buying this for a friend? Choose the "Buy Gift Card" option and let them pick their own dates.

2021 DATES
MONDAY & WEDNESDAYS
July 5th - 28th | August 2nd - September 1st
TUESDAY & THURSDAY
July 6th - 29th | August 3rd - September 2nd
The MTB Kids Summer Program includes:
July - 8 Coaching Sessions (2 days/week for 4 weeks, 9am-3pm)
August 10 Coaching Sessions (2 days/week for 5 weeks, 9am-3pm)
Full Summer (July and August) - 18 Coaching Sessions (2 days/week for 9 weeks, 9am-3pm)
2 Days Per Week of Coaching

Fresh, tasty lunches from Connection Cafe!

TroyLee ZEP riding jersey plus other great ZEP swag!

ZEP stickers!

Pump Track Sessions, and more!

15% off additional ZEP Private Lessons